Donor Loyalty Event, October 3 2014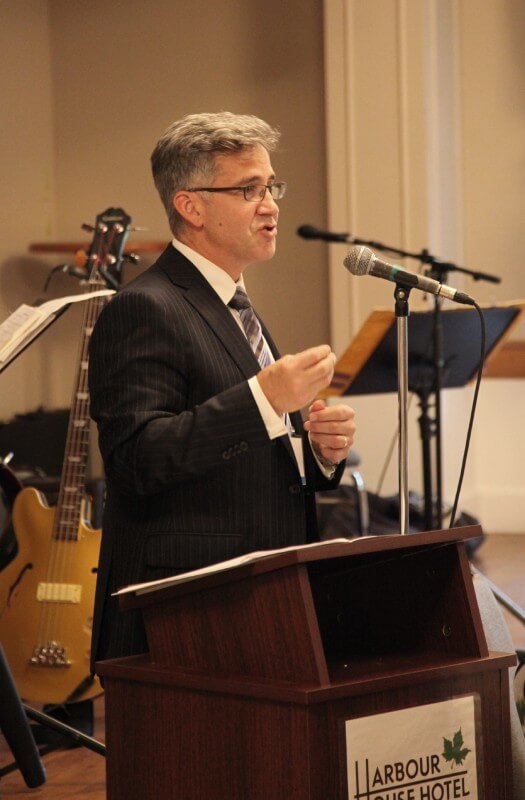 Over 50 donors gathered at the Harbour House Hotel on October 3rd to share stories and get to meet our Foundation board members and staff. Our guest speaker, Dr. Brendan Carr, is the Chief Executive Officer and President of our health authority, Island Health, based in Victoria. Presentations were also made by the Chair and Vice-Chair of the Foundation, Paul Oliphant and Jennifer Williams, Clinical Coordinator, Jo Twaites and Practice Lead, Catherine Green as well as our medical staff president, Dr. Ian Gummeson. Donors who had made a contribution to the Foundation for ten consecutive years or more were invited to attend. We would like to take this opportunity to thank all of our donors whether you are new to our family of support or have been in the family for many years. Each gift truly matters and allows us to support the Lady Minto Hospital in the best possible way.
Dr. Brendan Carr spoke eloquently and with much enthusiasm and support for our very special community hospital. Here are some notes from his speech:
It's said that Lady Minto is the 'jewel in Salt Spring's crown' and Island Health is committed to investing in the hospital to ensure that we continue to deliver the best possible care. In fact, this year alone, Island Health is investing more than $2.5 Million dollars into facility upgrades. These improvements aren't always obvious to our patients, but they represent critical projects that were prioritized based on a rigorous capital planning process.
Valuable Foundation Partnership
Last year, millions of dollars were dispersed to Island Health by our 12 Hospital and Healthcare Foundations. The Lady Minto Hospital Foundation is an integral part of the family and an excellent example of what's possible when a community works together towards a common goal. The Foundation has provided the hospital with numerous pieces of new equipment and recently committed over $70,000 dollars towards the purchase of new endoscopy equipment.
From life-saving medical equipment, renovations, AED programs and staff education, this Foundation plays a key role in supporting us – in doing our very best for our patients.
You may have heard the saying by Helen Keller that, "alone we can do so little; together we can do so much".
Working together over the past 3 years, this Foundation has provided more than half a million dollars to support the Lady Minto Hospital – everything from Endoscopy equipment to floor scrubbers; all important equipment when running a hospital. This means that depending on the year, the Foundation has funded about 6 to 10 percent of the improvements at Lady Minto Hospital.
These are things that we simply couldn't afford to fund on our own due to competing priorities at other sites and I really want to express the important role the Foundation plays when it steps up to fund these items. When we're working within such tight margins, contributions of 6-10 percent from the Foundations make a huge difference!
During a tour of the hospital today, I was thrilled to visit the new Acute Care patio which was funded 100% by the Foundation. This was a $28,000 dollar funding commitment that provides a safer and more pleasant outdoor area for patients, families, and visitors.
A Big Thank You
Thank you for supporting this Foundation for so many years, and I hope we can count on your continued support for years to come.
This community has an amazing ability to raise money. If you compare donor dollars per capita throughout the entire Health Authority, the highest grossing Foundations are found in some of our smallest communities; Cowichan, Tofino and Salt Spring Island.
Thanks to the generosity of this community and the Board of Directors' unrelenting resolve, Lady Minto Foundation raises over $42 dollars per capita which is double the average of all 12 Island Health Foundations – including those in larger urban centers.
I want to thank all of you who are loyal donors for your many years of support and express again how much Island Health appreciates your generosity.
https://ladymintofoundation.com/wp-content/uploads/2023/01/Dr-Carr-sized-525x800-1.jpg
800
525
ladymintofoundation
https://ladymintofoundation.com/wp-content/uploads/2022/12/lady-minto-hospital-foundation-logo.svg
ladymintofoundation
2015-03-10 19:46:30
2023-01-24 13:41:38
Donor Loyalty Event, October 3 2014