New Free Wi-Fi connects Lady Minto Hospital patients and visitors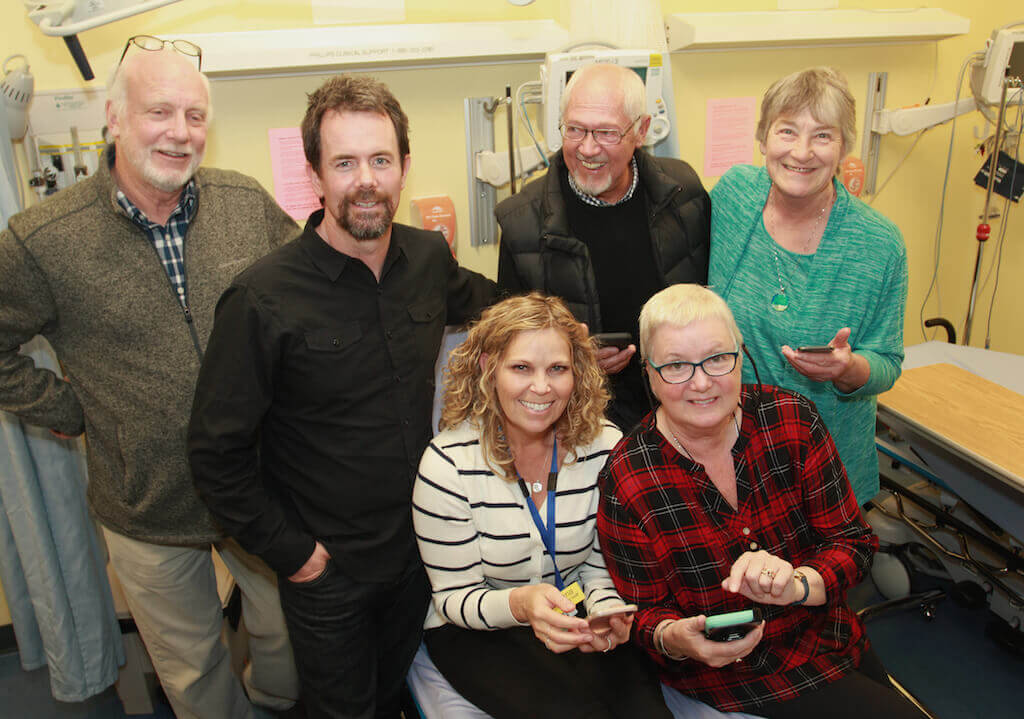 Free public Wi-Fi is now available to patients and visitors at Lady Minto Hospital thanks to financial support from the Lady Minto Hospital Auxiliary, Lady Minto Hospital Foundation, Country Grocer, Island Health and the Salt Spring Exchange.
"We are thrilled to be bringing public Wi-Fi to patients and visitors at Lady Minto Hospital. We know how important a strong support network is for people who are in hospital, having internet access can help patients feel less isolated and more connected to their loved ones. " Diana Hayes, Lady Minto Hospital Foundation Executive Administrator
Patients and visitors can access the new service by searching for and connecting to the wireless network "IslandHealthGuest". Free public Wi-Fi will support basic internet browsing, but not the large bandwidths associated with high-definition video streaming.
"Country Grocer is proud to contribute to the provision of Wifi at Lady Minto Hospital. Connecting with friends and family in a time of need is so important.  From it's initiation to today's implementation, we're pleased to be part of this new and needed service at the hospital. " Rob Lowrie, Community Relations, Country Grocer, Salt Spring Island
A total of five Island Health hospitals introduced public Wi-Fi this month, with the support of their local foundations or auxiliaries; Victoria General Hospital, Royal Jubilee Hospital, Cowichan District Hospital and West Coast General Hospital are the latest hospitals to offer this service.
"The care and comfort of patients is our priority. The greatest comfort often comes from family, friends and support groups – especially in times of crisis. We hope that the introduction of public Wi-Fi will make patient stays a little more comfortable." Ann Muller, Lady Minto Auxiliary President
"When we, or our loved ones, are in need of care or in the midst of a medical emergency or longer-term care, being able to stay in touch is a vital part of that care. We have an incredible community resource in The Lady Minto Hospital, but it has been absent of easily accessible data services for years. The Salt Spring Exchange is very grateful to give back to the community and the Foundation as one of the sponsors of this project. " – Christopher Roy, Founder, Salt Spring Exchange
Look for these signs at the hospital for instructions on accessing the service when visiting the hospital.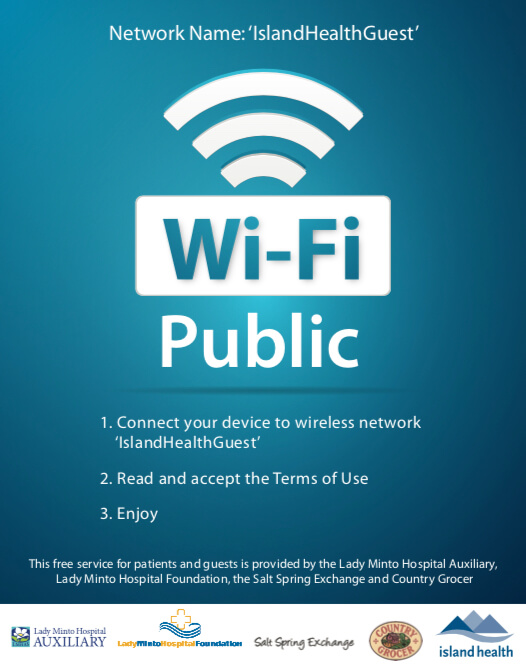 https://ladymintofoundation.com/wp-content/uploads/2023/01/Salt-Spring-LMH-WiFi-Sponsors-Sept-17-2018.jpg
719
1024
ladymintofoundation
https://ladymintofoundation.com/wp-content/uploads/2022/12/lady-minto-hospital-foundation-logo.svg
ladymintofoundation
2018-09-27 21:05:07
2023-02-03 19:59:38
New Free Wi-Fi connects Lady Minto Hospital patients and visitors