A lifetime of caring: Getting to know Janet Rothwell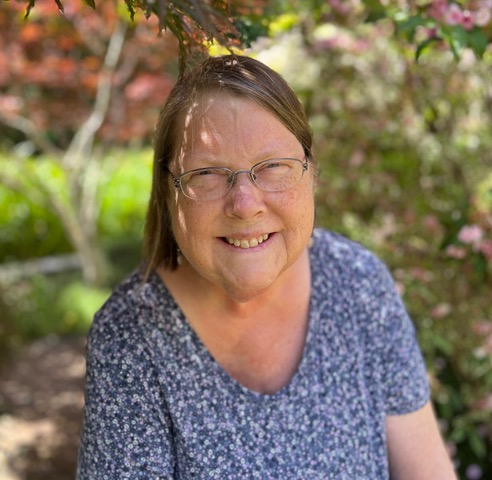 LMHF donor Janet Rothwell retires from Lady Minto Hospital this month after a half a century in healthcare and a lifelong interest in caring for others. Janet sat down with the Messenger to tell us a bit about her career, life, and Lady Minto Hospital.
Q. Are you originally from Salt Spring?
No, I'm not. I moved over to Salt Spring in 1969, when I started grade nine. My association with Lady Minto started in 1970, when they decided to have the first group of candy stripers, and I was part of that group. The year after I graduated was the first year the ladies' auxiliary offered a scholarship. They said the people from the previous year could apply so I applied and got their very first scholarship. After HS graduation, I had to wait six months to enter the LPN program in Victoria, so Lady Minto hired me on as a care aide in extended care.
Q. What was the hospital like at that time when you were doing the candy striping and the care aide work?
There was the acute care and several extended care beds. If you worked the graveyard shift on ECU, you worked by yourself and didn't have any direct way to get hold of the acute care unit if you ran into problems. The ACU nurse came down at 6:30 to do the breakfast meds.
Q. What got you interested in healthcare as a career?
When I was six years old, I had an operation on my eye. There was a candy striper on the ward I was on, and she got to carry around a little toddler who was also a patient. I thought oh, I want to be a candy striper so I can do that!
Q. You're about to retire after a lifelong career in healthcare. What's kept you working in healthcare all these years?
It's definitely the people – both the staff and the patients/residents. I spent a lot of time working in extended care, both as an LPN and then, after I had a major back injury, I worked as a unit clerk. I loved the opportunity to listen to all the wisdom in the room—you know, the old lady in a wheelchair—you start talking to her and you find out she was the first lady to graduate as a female from her college—things like that. Everybody does have such interesting stories!
Q. You worked in Victoria as an LPN for a time but came back about a decade ago. What made you decide to return to Salt Spring?
I have two brothers living here, one with a young family at the time. I knew I wanted to be around them. About six months later, our mother moved over as well.
Q. Since you've been back, what have you noticed most about how things have changed at Lady Minto over the years?
I have much more awareness of community involvement with the hospital and health care on the island, the Foundation and their fundraising, the way the community supports that and how positively everyone talks about Lady Minto.
Q. And so Janet, what about you? What's your life like outside of your work? I mean, you're going to be spending a lot more time on that soon.
I am a quilter and am involved with the local guild here on the island. I also like reading and knitting. I've actually just started back doing cross stitch as well. So I'm a multi hobbyist!  I'm also involved with my church.
Q. What do you like best about Salt Spring?
I just love the atmosphere here. If I go off-island, I'm always so glad to get back—it's always so noisy off-island. I love the rural atmosphere; you're walking along and you smile at somebody and they smile back. I'm always trying to smile, especially at people older than me—sometimes they're not connected to many other folks, and connection is so important to your health and well-being. 
Thank you Janet for your years of service and giving back!
Regular donors like Janet are the backbone of our giving program, providing a stable financial foundation, supporting long-term planning, reducing administrative costs, and allowing LMHF to focus on our mission.
Our Monthly Giving Program also benefits donors by facilitating smaller, recurring donations that make it easier for individuals to contribute over time, helping donors to budget for their gifts and helping them to stay connected to LMHF over the years. Learn more about how you can make your own commitment to Salt Spring's healthcare future today.
https://ladymintofoundation.com/wp-content/uploads/2023/06/fullsizeoutput_241.jpeg
480
492
ladymintofoundation
https://ladymintofoundation.com/wp-content/uploads/2022/12/lady-minto-hospital-foundation-logo.svg
ladymintofoundation
2023-06-01 22:59:30
2023-06-05 14:05:05
A lifetime of caring: Getting to know Janet Rothwell